Another gem comes up for auction, this time it's Banksy's You Told That Joke Twice at Christies.  This painting was originally exhibited at Banksy's Severnshed exhibtion way back in 2000.  The original site featuring the show is still live here.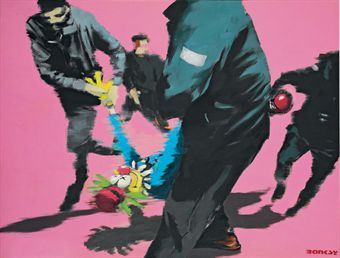 Lot details:
Exhibited at Banksy's seminal first indoor paintings show at Severnshed in his hometown of Bristol, You Told That Joke Twice, shows the playful wit associated with Banksy's pared down compositions. You Told That Joke Twice offers the familiar trope of one of the artist's favorite scapegoats, the faceless police officer, in this case on a witch-hunt for the Pagliacci of peace. The implied force reduced to a pathetic scene and effective farce.
Banksy (b. 1975)
You Told That Joke Twice
stenciled 'BANKSY' (lower right)
acrylic, spray enamel and oilstick on canvas
49 1/8 x 65in. (125 x 165.2cm.)
Painted in 2000
This work has been authenticated by Pest Control Office.
More here.
UPDATE: For results from this sale, see here.