As much as it's difficult to extrapolate from any one artist the strength of the art market as a whole, if we were to go by Banksy's recent auction results alone, things can in a quantifiable way be judged as on the up.
February has long since been the month when the major auction houses awaken from a prolonged winter sleep, and the Banksy appearances at Christie's, Sotheby's and Philips de Pury this month are no exception.   Whether it's related to the recent unveiling of the  Banksy film that could potentially further cement the artist's global infamy, or a more general confidence in the contemporary art market as a whole, across the board Banksy end results have surpassed expectations – in a week in which many gems went up for auction.
In many eyes the star of recent Banksys under the hammer was You Told That Joke Twice at Christie's Post War and Contemporary Art Day Auction on 12th February.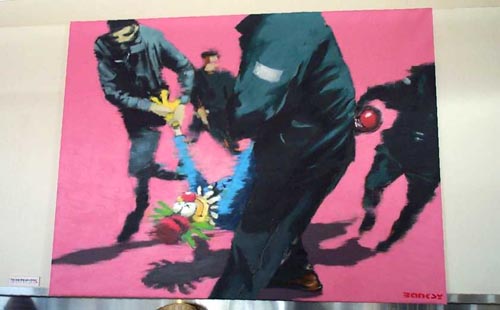 Photo credit: Bristol Beat.
Estimated at £100,000-£150,000, the price realized on this Banksy painting comfortably exceeded the top end, selling at £169,250 including buyer's premium.  Full lot details are here.
Next up was Philips de Pury's Evening Contemporary Art Sale on 12th February where another early Banksy canvas went under the hammer.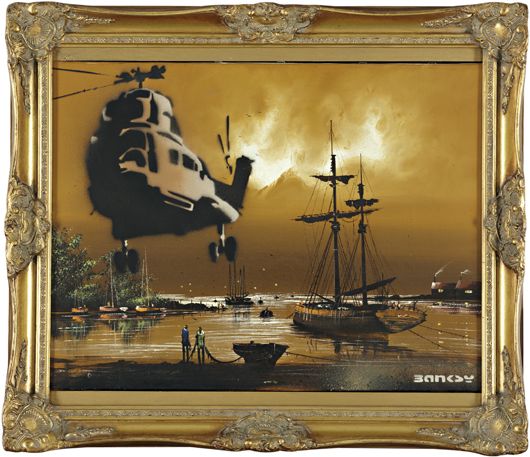 Vandalised oil # 001, a Banksy painting from 2001, was estimated at £60,000-£80,000 and acheived the final price of £121,250 – double the lower end of the estimate.  Full lot details are here.
On 11th February a few more significant Banksys popped up at Sotheby's Contemporary Art Day Auction and each and every one exceeded estimates.   Lot Number 285, a Banksy Bomb Hugger canvas was estimated at £25,000-£35,000 and acheived a hammer price with buyer's premium of £58,850, while Lot Number 285 Banksy Armoured Car canvas, estimated at £25,000-£35,000 sold for £49,250.
Finally, often a telling gauge of the state of the Banksy market, came a Kate Moss print at the Sotheby's sale.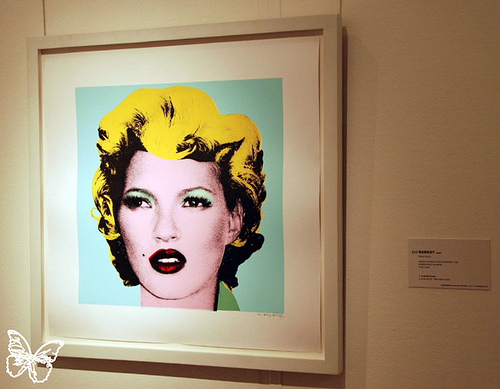 Image courtesy of s_butterfly.
From the original colourway edition of 50, this Banksy print was estimated at £25,000-£35,000.  The hammer price including buyers premium was £46,850.
Full Sotheby's auction catalogue is here.
Overall then, with each and every Banksy sold at the three major auctions houses' sales this month all comfortably exceeding estimates, it's probably safe to say the Banksy market is in rude health compared to last year.