Before Banksy's Exit Through the Gift Shop reaches UK cinemas, it's being screened in Berlin at the Film Festival.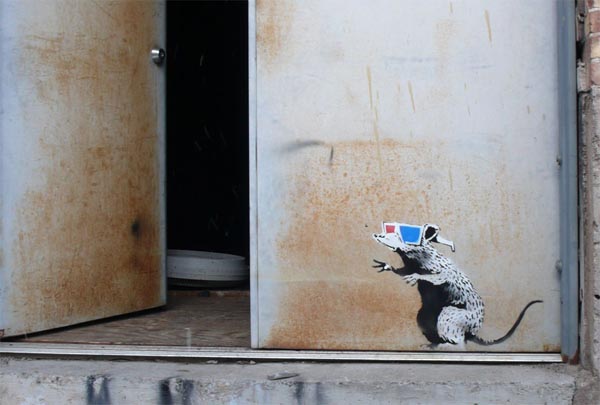 Banksy 3D Rat from Utah last month.
In a video message to audiences at the Berlin Film Festival on Sunday before the screening of the film, Banksy gave one or two insights:
"I guess my ambition was to make a film that would do for graffiti art what 'The Karate Kid' did for martial arts — a film that would get every schoolkid in the world picking up a spray can and having a go…As it turns out, I think we might have a film that does for street art what 'Jaws' did for waterskiing."
"'Exit Through The Gift Shop' is one of the most honest films you will ever see," Banksy said in his video to the festival.
"There was no plan, there was no script and we didn't even realize we were making a film until halfway through. I think it's a good film as long as you've got very low expectations."
Most intriguingly of all, Berlin festival director Dieter Kosslick hinted that Banksy would be in town. "He'll be here but no one will see him," he said, and a festival spokeswoman added organizers assumed Banksy would at some point leave a tangible sign of his presence.
So will Berlin see some new Banksys like Utah did last month?  Time will tell.
Via Reuters.
UPDATE 15th Feb: The BBC picked up on this story, and it seems the video statement prior to the first screening of Banksy's film in Berlin was via satellite – which hints at the likelihood he wasn't in the country after all.  Whether he dropped by the city incognito for the European premiere… who knows?