So it seems long after Banksy left Utah the impact of him putting up his pieces is still being felt. In addition to doing the promotion of his film no harm, apparently he may well have inspired a number of local graffiti writers to get to work.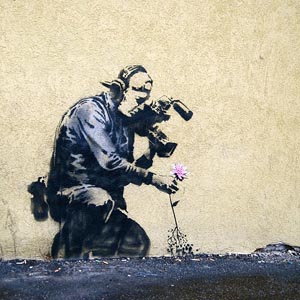 Banksy Cameraman in Utah last month, photo Brendan Bybee
From the Park City Record Editorial:
There has been an outbreak of graffiti in Park City this week and we are wondering if it is related to the recent attention paid to the rogue artwork that appeared around town during the Sundance Film Festival.
They go on to say:
We like Banksy's cameraman on Main Street, but we would have liked it more if he had asked permission to put it there.
And that
Graffiti is art when it is invited, and it is vandalism when it is not.
No grey area in the Park City Record's eyes on what makes graffiti art and what doesn't.  According to this view, permission is the deciding factor.
On the other hand, if local graffiti artists are encouraged to be more active on the streets after Sundance, who can blame them after the positive coverage Banksy's visit generated in the media, even from yes, the Park City Record.  To disapprove of Banksy's non-permission in retrospect?  It might be too late for that.
The age old debate of the merits of Banksy Vs. any other graffiti rumbles on.
Read the original article here.