A week can sometimes be a long time in the world of Banksy.  Since what seems like a lifetime ago and the premiere of Banksy's film, he's seemingly pulled out all the stops to spread the word before the nationwide screenings begin this Friday, 5th March.
Here's a round up of the past week's activity, all in one post.
The Sunday Times hooked up with a rare full Banksy interview, and on their site they featured an exclusive video of Banksy at work.  Inventively enough, before the paper hit the shelves reversed stencils promoting the story started popping up in both London (first picked up by Hookedblog) and Bristol.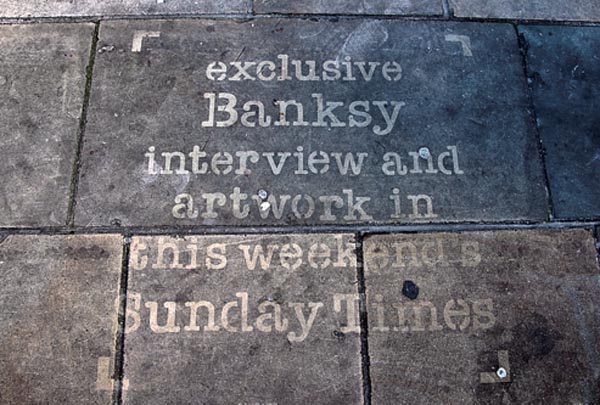 Sunday Times reverse stencil, image courtesy of drbdesigns.
Come Sunday, and a never before seen clip is unveiled on the Times' site. We've embedded the video that appeared as part of the coverage here:
The piece seen being executed in the film went on to be the cover star of the Sunday Times Magazine.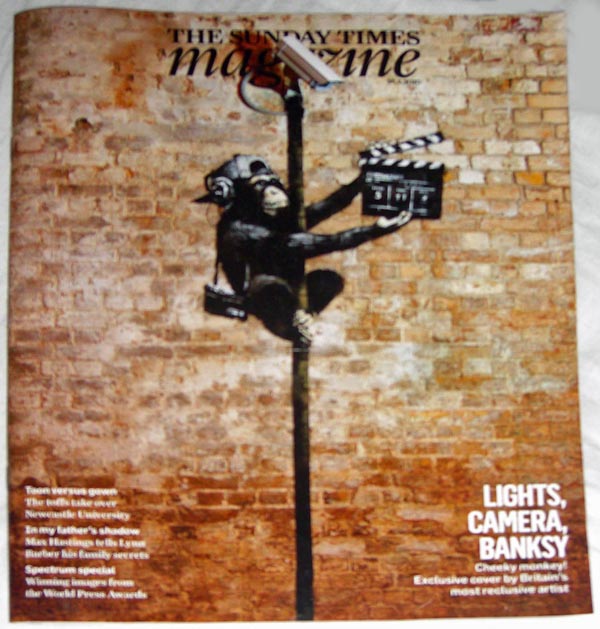 From this Sunday onwards, this same monkey was visible as part of the display in the Leake Street showings of the film.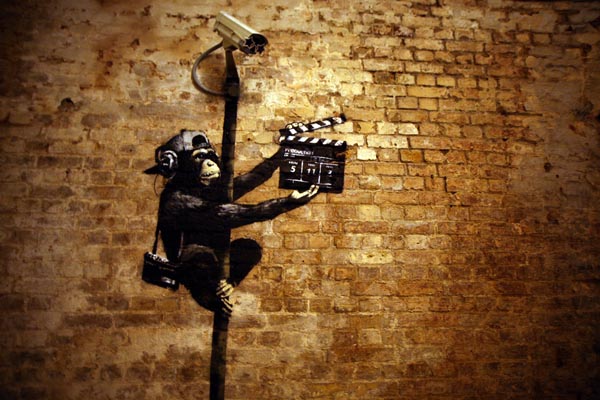 Photo by mattbooy.
The interview itself was as evasive as we've come to expect from Banksy, but there certainly were a few real insights.
"I did art at school but I never pursued it any further. I have a large collection of famous art at home, but they're all fakes. I make them myself. If I like a picture I grab a photo, project it up and paint it. Sometimes I change the colours to fit with the curtains. I do it partly because I'm tight and partly because if the Basquiats and Picassos in the sitting room were real I'd be too scared to ever leave the house.
"I recommend graffiti to anyone, for no other reason than a trip across town is never boring — you're always on the lookout for new spots and what you can do on them. Likewise, if you ever get bored going round a museum, the interest level ramps up substantially when you smuggle in your own piece under a coat and glue it up somewhere."
"I don't have a lavish lifestyle…When I went to Sundance I rented a minivan so I could drive around and make some paintings. Me and a friend slept in it for a week at a trailer park covered in snow and full of rottweilers. I was huddled over a tiny electric heater, cutting stencils on a fold-down bed surrounded by dog shit. A week later the local paper described my visit as a ruthlessly orchestrated marketing campaign, but it didn't feel like that at the time."
and
"Originally I wanted to call the film How to Sell Sh*t to C**ts".
It really is worth a read, check the whole article here.
Next up came an unexpected Banksy addition to the streets, his first so far in London of 2010.  The legal posters for the Banksy film have been well documented, but to see this one pop up on the Portabello Road in London came as a surprise.

Quality photography here from RomanyWG.
Finally, a Banksy takeover of Time Out magazine.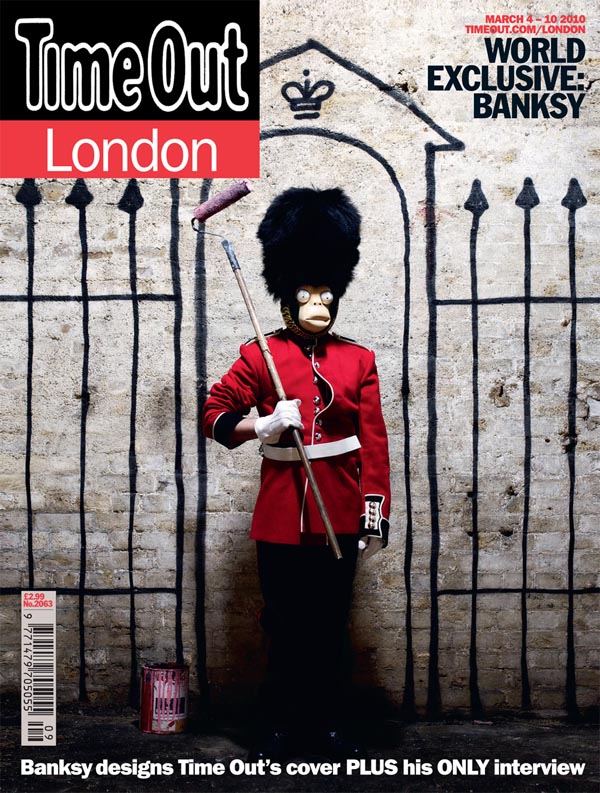 The issue features the "exclusive" never before seen Banksy above, plus an interview with the man himself.  They're selling copies online, peep them here – you can also buy a poster of the cover image, with proceeds benefiting Haiti.  Read the full interview with Banksy on Time Out here.
Which just about rounds up new Banksy things from the past week.
Finally though, when we went to the showing of the film at Leake Street late last week, we couldn't help but notice the Ice Cream van in the tunnel had a small addition, courtesy of 10 Foot.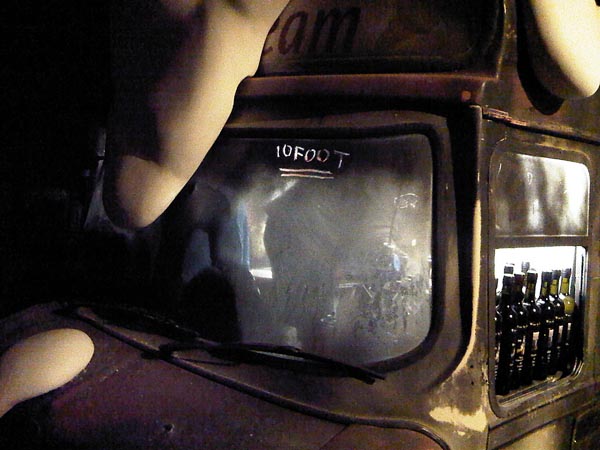 Exit Through the Gift Shop opens at cinemas nationwide from 5th March.