Exit Through The Gift Shop comes stateside, it's official.  Banksy's film site has just been updated with locations of US screenings, and they are as follows:
NEW YORK: Sunshine Theater
NEW YORK: Lincoln Plaza
LOS ANGELES: The Landmark
LOS ANGELES: Arclight, Hollywood
SAN FRANCISCO: Embarcadero
BERKLEY: Shattuck
SAN RAFAEL: Rafael
PALO ALTO: Aquarius
With more locations still to be announced.
The LA Times has some interesting insights into how US distribution was secured through a new entity called the Producers Distribution Agency, co-founded by Cinetic Media's John Sloss.
Sloss says there were offers for the movie from theatrical distributors, but the combination of an innovative campaign centered around the cult of Banksy and Banksy's D.I.Y. attitude (which may have not jelled as smoothly with a traditional distributor) made this a more feasible approach. "How specific his ideas are about marketing and how [a distributor] might have insisted on marketing it might have been an issue," he acknowledged. But Sloss also underscored that Banksy was a huge asset — practically a marketing campaign in his own right. "This is a person who really knows how to create awareness for what he's doing, and at almost no cost."
There was also no need to wait for a traditional distributor to find a far-off release date since, as Sloss deadpanned, Banksy wasn't exactly going to embark on a media tour anyway.
And finally all new promotional artwork for the stateside release is unveiled (and currently forms the background to banksyfilm.com).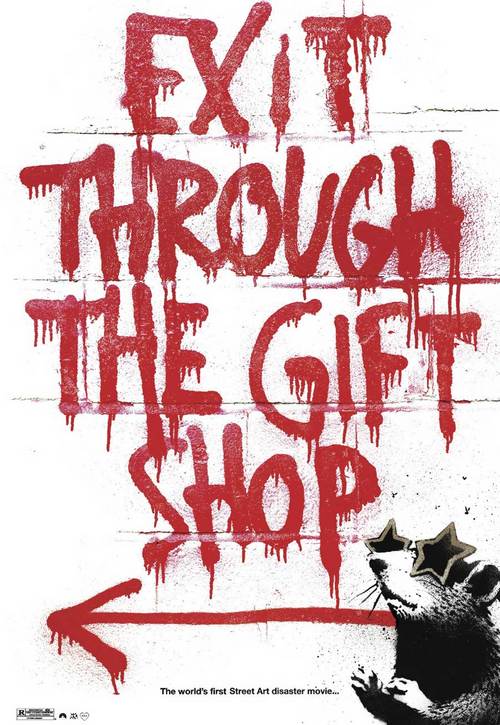 Image from Wooster Collective.
Exit Through The Gift Shop begins US screenings from April 16th.