In the aftermath that followed Banksy's visit to New York, the destruction of a couple of his pieces was caught on camera.
Now, the creation of one may have come to light.
Much of the UK press claimed Banksy was caught on CCTV in London recently, and as initial suspicions confirmed, this was a fake.  This time around though, Banksy might well have been actually caught on camera.  If not quite Banksy unmasked (given that he was wearing a full face balaclava), it still appears to be him, on camera.    As well as the official photo of Banksy having his portrait done that appeared on banksy.co.uk recently, another photographer was there to capture it too.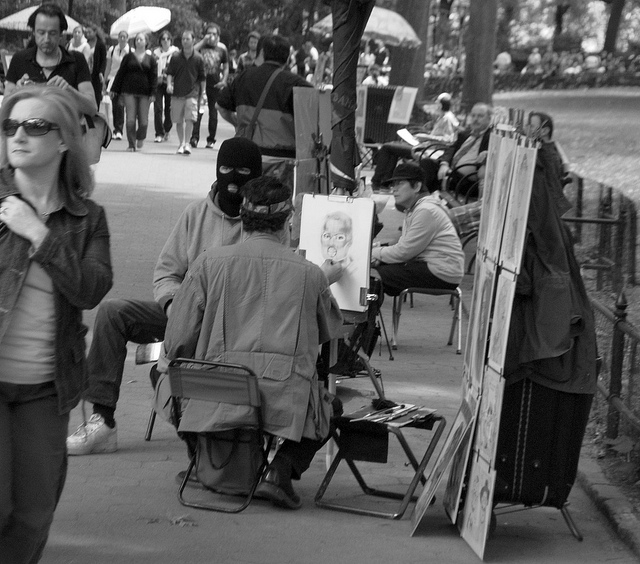 Pete Van Vlee took this photo, and uploaded it to Flickr with the caption "Some guy in a ski mask getting his sketch drawn in New York's Central Park".  Of course that 'some guy' was Banksy.   Pete's other picture is below.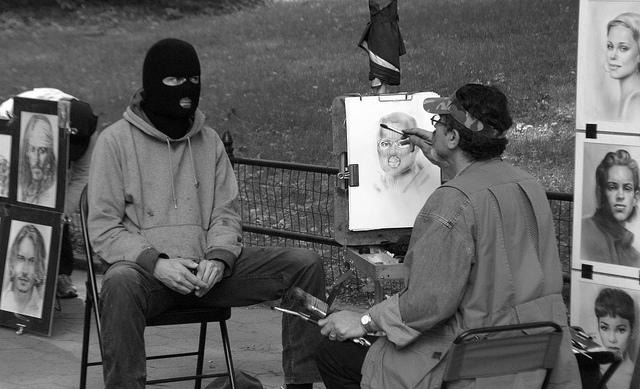 So there we have it, Banksy finally caught on camera.  If nothing else, the large numbers of people around in the first photo really does demonstrate the audacity of Banksy's appearance.  Or does it?   The photographer adds: "Nobody else was taking photos while I was there. Most people walked by without noticing at all, which I did too at first. Funny that there were so many people there but no one paying attention".
Image credits: photo 1,  photo 2.
UPDATE: A couple of commentators have pointed out that there are some differences between this image and the one that appeared on Banksy's site – in other words, this could well be an elaborate hoax.  If so, consider us duped.   Unless Banksy had two separate sittings for the same concept – which certainly seems possible.