This was a pretty big week for auctions featuring solid Banksy originals.  Bonhams held their Vision 21 sale at Knightsbridge on Wednesday, while Sotheby's had their  Contemporay Art Day Auction the previous day.  Often, these sales unearth some rarely seem gems from the hands of private collectors, and this week's auctions were no exception.
Perhaps most exciting of all was a very early canvas of Banksy's most famously misspelled work, Heavy Weaponary.  Dating from 1998, this canvas is something of a rarity, and unlike the later black and white editioned pieces from 2003 (like this one), it's a total one off.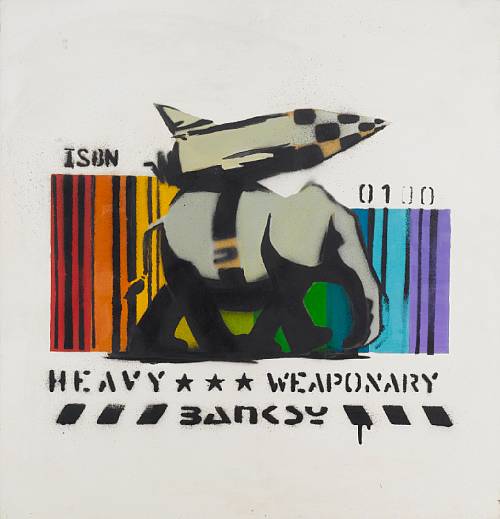 This canvas is doubly interesting because it's colouring echoes this one that was on display at Banksy Vs. Bristol Museum in 2009, which was presumeably made much later.   This particular Heavy Weaponary sold at Bonhams for £38,400, inclusive of buyers premium.
Another great early Banksy canvas that sold at Bonhams was 'Lenin on Rollerblades' (also known as 'Who Put the Revolution on Ice?').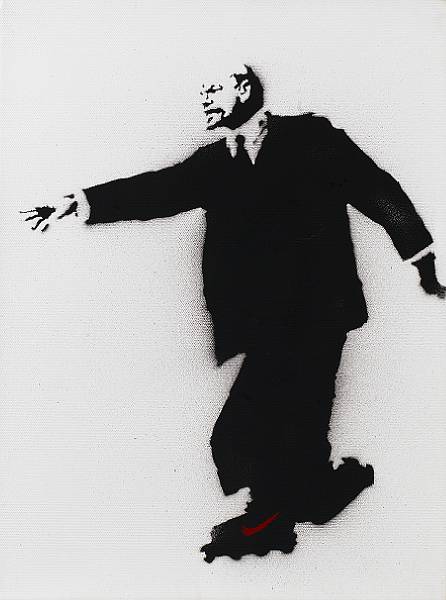 From an edition of 25, this 2003 canvas sold for £15,600 inclusive of Buyer's Premium.
The final Banksy original at Bonhams was a much later piece – a unique watch tower sculpture originally from Santa's Ghetto in Bethlehem in 2007 – although it's dated as 2008 on the auction page.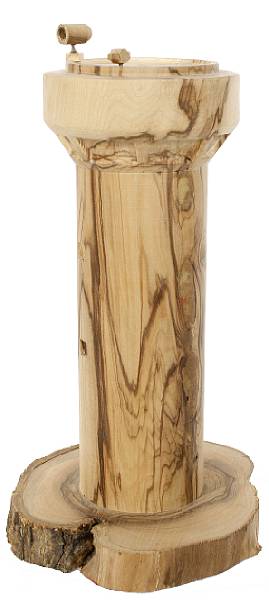 This sold for £5,400 inclusive of Buyer's Premium.
A few signed Banksy prints also cropped up at Bonhams: An 'I Fought the Law' (2004) sold for £5,280, a 'CND Soldiers' (2005) sold for £3,600 and a 'Napalm' sold for £4,800.
See the full auction catalogue here.
Meanwhile, Sotheby's sale included a couple of hard to find originals, starting with Winnie the Pooh (Money Trap).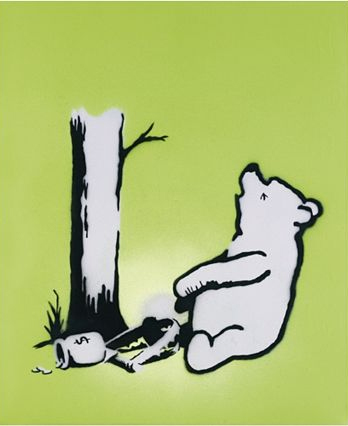 Estimated at £20-30,000, this smashed that with a hammer price of £43,250.
Finally, Sotheby's had this Flying Copper.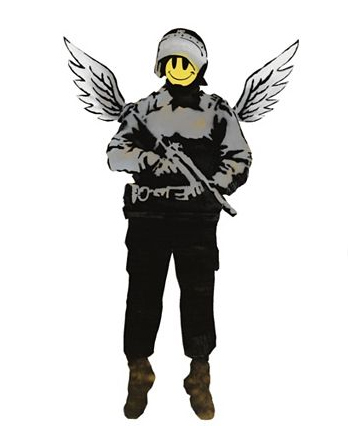 This too comfortably exceeded its £20-30,000 estimated, hammering at £38,450.
All in, it was a strong showing for Banksy at auction, and an interesting glimpse into some of those rarely seen original early pieces.