The Banksy print CND Soldiers was originally released in 2005 as part of an edition of a total of 700 prints.  Half of these were signed, the other half unsigned.


• 350  – Signed
• 350  – Unsigned


50x70cm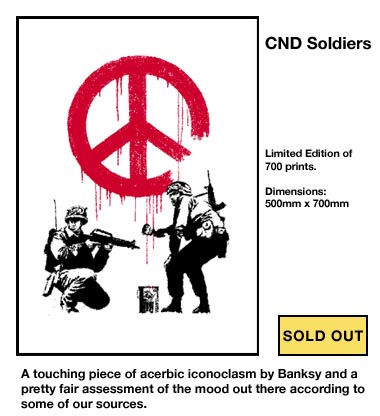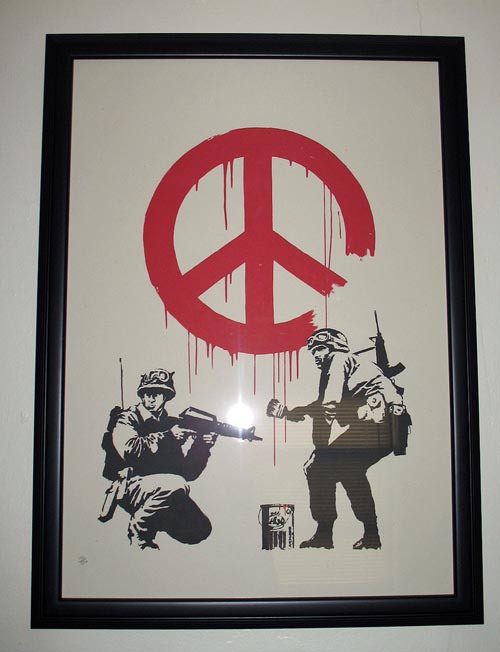 Image courtesy of jediak3, originally uploaded here.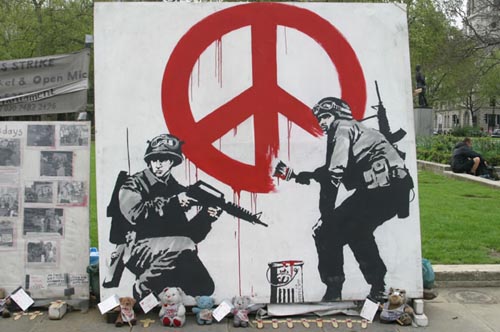 Photo by Maeve Tomlinson, courtesy of  parliament-square.org.uk.
An original canvas of Banksy's CND Soldiers famously appeared as part of the display of the long time anti-war protester Brian Haw back in 2006, until it was dismantled by police in May of that year.  The artist Mark Wallinger went on to recreate the original Banksy canvas as part of his State Britain exhibition at the Tate in 2006, which was a faithful homage to Haw's protest.  Wallinger went on to win the Turner prize with this display in 2007.


Turf War | Jack and Jill | Applause | Rude Copper | I Fought The Law | Golf Sale | Have A Nice Day | Flying Copper