The Banksy print Flags comes in two different flavours, silver and gold.  By far the most common is the silver edition of 1000 prints released as part of the Santa's Ghetto show on Oxford Street in 2006.  Unusually printed on chromalux paper, this print is unsigned.  An extremely limited number of silver Flags were available on formica from Lazarides.  Printed on hard board, these were signed (with Banksy's signature scratched into the surface) from an edition of 20.
The final incarnation of Flags is the gold edition available only to buyers in person at the 2007 Santa's Ghetto in Bethlehem.  These were all signed and an edition of 112.


• 100 Silver – Unsigned
• 20 Silver Formica Board – Signed
• 112 Gold – Signed


50x70cm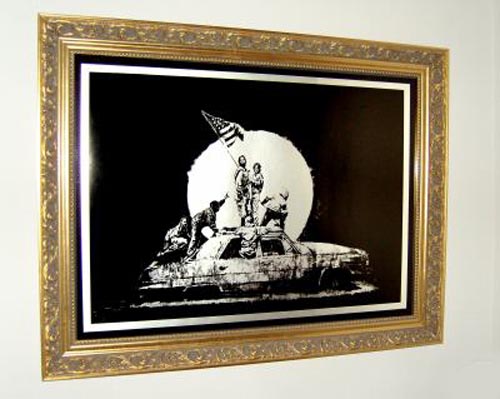 A gold ornate framed Silver Flags, from the unsigned edition of 1000.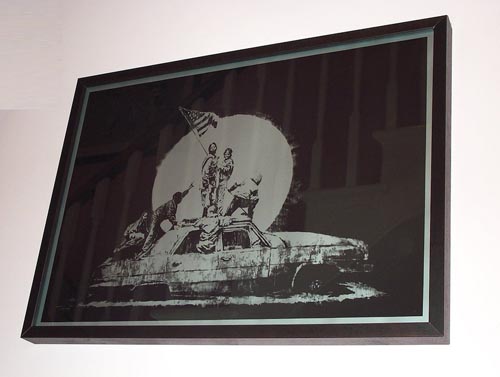 The original unsigned Flags from an edition of 1000.  Originally uploaded by readerswives here.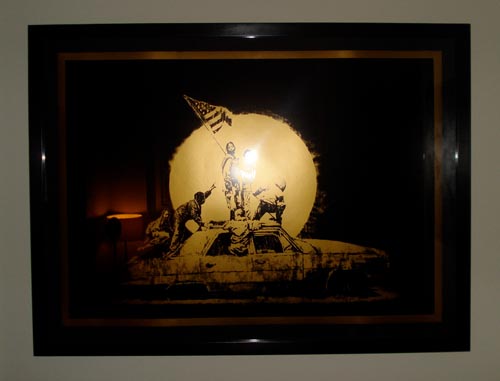 The Gold signed edition of Flags.  Originally uploaded by scottb23.

The formica edition of Flags.  Originally uploaded by jaimesleggett here.


NOLA | Grannies | Applause | Morons | No Ball Games | Trolleys | Donuts