The Banksy print Morons famously depicts an auctioneer selling at auction an image with the text "I can't believe you morons buy this shit", and it first appeared on Banksy's site soon after a record breaking auction result for one of his canvases.  Along with Trolleys, Applause, Sale Ends, Festival and Grannies, the Morons was originally released as an unsigned edition of 100 at Banksy's 2006 show Barely Legal in LA, printed by Modern Multiples.  Numbered out of 500, only 100 of this particular edition were ever put up for sale.  There are a limited number of signed prints in circulation from the LA edition (low edition numbers and proofs),  but these never went on general sale.
The original LA edition of Morons differs slightly from it's later POW counterpart –  the main difference being  the frame of the auctioned image depicted is gold.
In 2007, Morons saw a release at POW in three different flavours, unsigned in white, signed in white and signed in the sepia colourway.


• 100 LA Edition – Unsigned White
• 500 POW Edition – Unsigned White
• 300 POW Edition – Signed Sepia
• 150 POW Edition – Signed White


56x76cm


LA: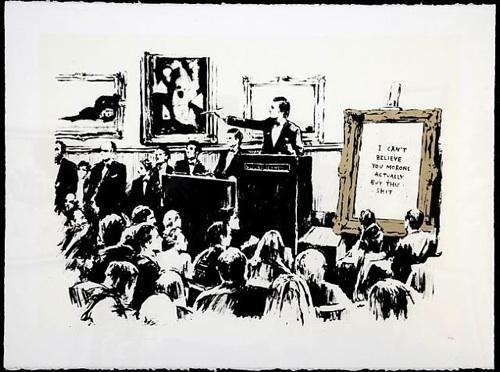 UK: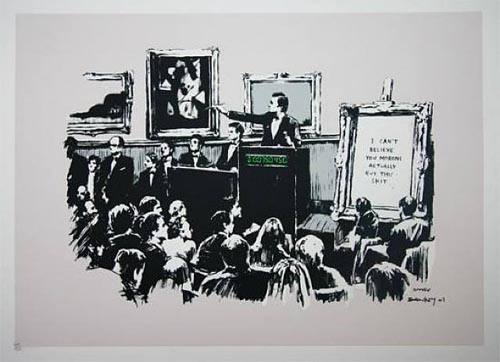 So there are subtle difference between the two editions – notably colouring of the frame, counter on the auctioneer's stand and printed Banksy tag which is absent from the LA edition.  Note that the UK edition pictured above is signed.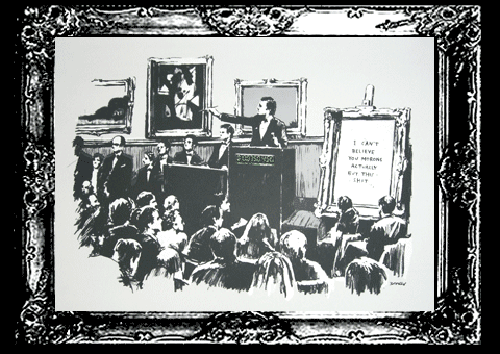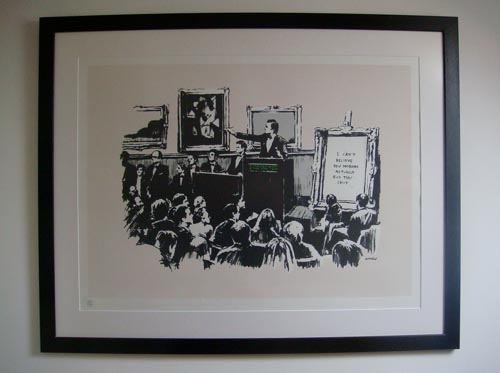 Singed white Banksy Morons, from charlieandpip, originally uploaded here.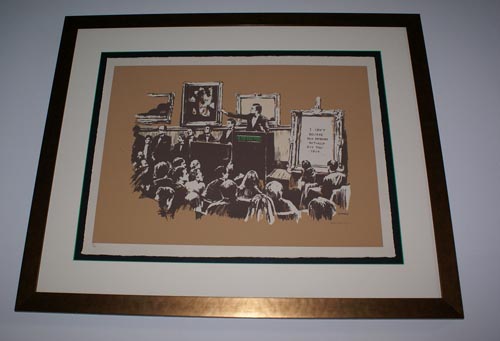 Signed sepia Banksy Morons, from richardgavins, originally uploaded here.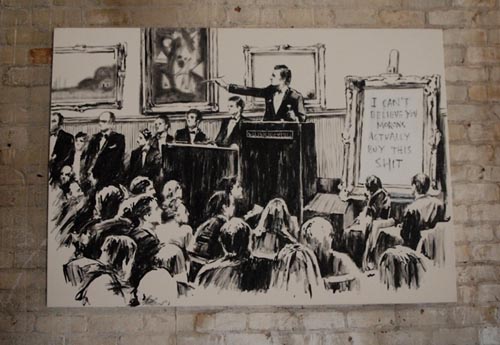 Originally uploaded here.  From Banksy's LA show Barely Legal in 2006.